PASSION ROYAL – ARGAN OIL HAIR REPAIR SERUM
PASSION ROYAL  – 摩洛哥坚果油修护精华
INTENSSIVE & NOURISHING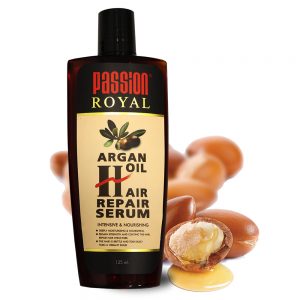 BENEFITS:
Argan oil extract, pure texture, effectively repair damaged hair.
Silky smooth and shine, light and easy to comb, immediate absorption, moisture, anti-frizz and sun protection.
摩洛哥坚果油萃取,质地精纯,有效修护受损秀发
头发如丝般柔顺亮泽、轻盈易梳理、立即吸收、抗湿气、抗毛躁、防晒
DIRECTION:
Gently apply evenly to damp or dry hair.